Hello!
Introducing to you - fresh, professional and hassle free content creation.
Welcome to Contextbox – fresh, hassle free content that we can bet on.
4 years of experience - we believe in quality.
If there is one thing we believe is the gospel truth in content creation, then that is Quality is King. Now we are sure you have heard this from a dozen other service providers but believe us when we say that at Contentbox, we don't mean just business, we mean quality business.
We understand that content is as much for the search engines as it is for the readers.
A well-written article that is not search engine optimized is like a fancy car with no gasoline! Thus, our work aims at fulfilling the needs of both, readers and search engines alike.
Do not believe us? Well go ahead and see a screenshot of what people have to say about us.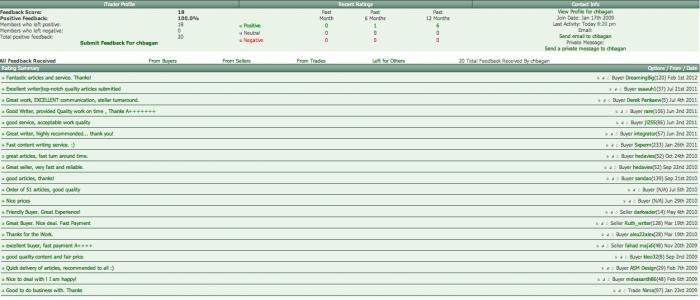 Also available on -
http://forums.digitalpoint.com/itrader.php?u=246915
So what do we provide?
Some salient features of our work -
◦ Keyword rich content as per your need
◦ Formatted properly into paragraphs
◦ Quick turnaround
◦ Grammatically correct articles
◦ Well researched
◦ Copyscape approved unique content
We pride ourselves at being experts when it comes to
◦ Article Writing
◦ SEO Article Writing
◦ Features based articles
◦ Blog Post writing and posting
Flat Rate - 0.55$/100 words - Bulk negotiable.
We accept payments via Paypal. Pay only after you are satisfied with the work as revisions are free of cost. We WILL not rest till you get what you have paid for.
Get in touch with us at for any requirement.
Visit us at -
www.contentbox.info
We usually revert in under 12 hours.
But there is more to it, we are also launching our very own content writing platform, have a look -
www.rticled.com
Regards,
Team contentbox